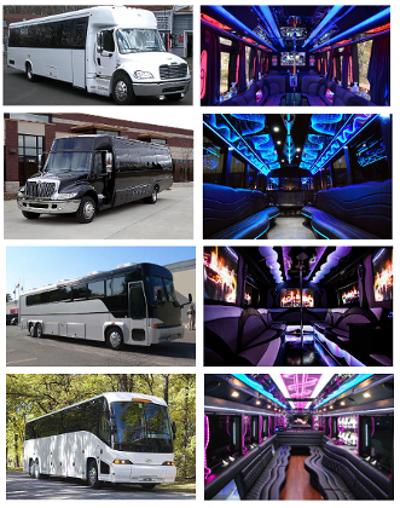 There's no better way to enjoy Dallas, Texas but in the back of one of the Dallas Party Bus Rentals. With spacious, luxurious backseats and an atmosphere that is just made for relaxed partying, you are not just taking a mode of transportation; you are becoming a VIP!

In this luxury bus, you are going to have an amazing time. Whether you are using it as a bachelor party bus or as a chauffeur service for your high-class friends to get to Richardson, TX, you are going to like the Dallas Party Bus Rental. With a spacious interior, leather seats, a large LCD television in the back, and a surround sound system that you can plug your MP3/IPOD player right into, you are setting yourself up for your very own executive party room.

Party Bus Rental Dallas
Maybe you want to go clubbing with your friends: what better mode of transportation could you look for but this cheap limo rental? Start out in the Libertine Bar, hit up the Iron Cactus, and end the night taking body shots at the Lizard Lounge. You won't have to worry about driving yourself home after! With the Dallas Party Bus Rental you know that you're going to enjoy getting from place to place and get home in one piece afterwards!
Not just for partying though, the Dallas Party Bus Rental is also made for families! Seating anywhere from 12 to 45 people, you can fit all of your kids and their friends onto the spacious charter bus. Take the family to the Sixth Floor Museum or to the Grapevine Vintage Railroad and let them enjoy the family outing in style! You can keep them entertained on the ride with the large television or the great surround music. If you want to take them to Balch Springs? Well, that's fine too. Call us at 813-864-5330.
Dallas Airport Shuttle
Forget about the hassle of trying to figure out rides, taxies, and transportation when you're about to come to Dallas. The Dallas Airport Shuffle will pick you up from the airport and take you to your destination with plenty of time to spare. This black car chauffer service is going to make you never want to bother with a cab again!
You shouldn't! You deserve to be picked up in the Dallas Party Bus Rental. After all, there's nothing better than to be picked up from the airport in a tour bus. You can sit back, relax, and let us pamper you.
Service Areas: