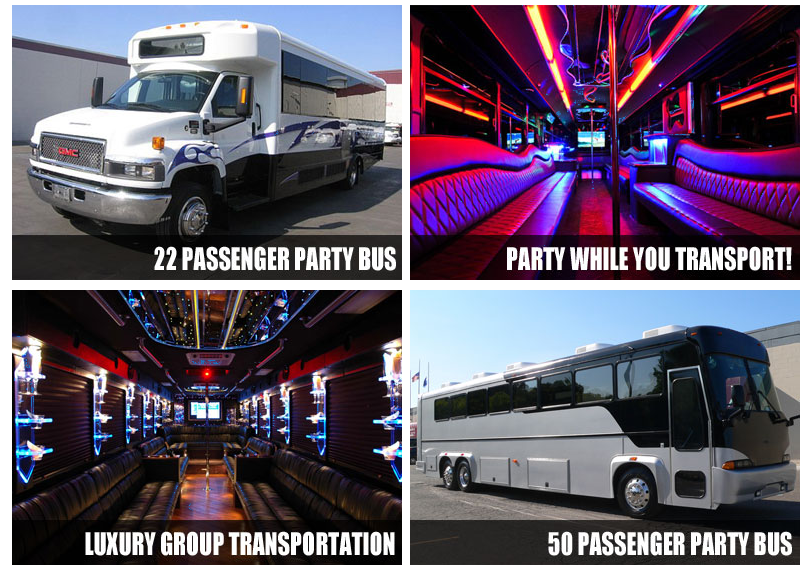 A1 Tampa Limos is now offering party bus service in Lutz, Florida. If you're looking to transport a large group of people in style and comfort, then take a look at our fantastic party bus fleet! Call Party Bus Lutz now!
Party Bus Lutz will be glad to take you anywhere throughout Florida. These party buses are great for large groups, corporate outings, tailgating, and much more. Expect an amazing time!

Party Bus Rental Lutz FL
Book an incredible Lutz Florida party bus and make your upcoming trip the best it can be! Travel around the area and visit some of the great bars in your immaculate party bus rental in Lutz.

You can take a trip over to nearby Tampa and visit some of the great bars in the area such as The Hub, known for their "hub pour", which has arguably the strongest drinks in downtown Tampa.
After your rendezvous there, continue your night out by taking your Lutz limo bus to The Retreat for some more drinks. This bar has two rooms, one for the bar and one for games such as pool, darts, and foosball.
Another fun fact is that this bar once appeared in the Guinness Book of World Records for the most draft beers sold. Anywhere you decide to go on your exciting night out can be made amazing with Party Bus Lutz.
After all of the partying is out of your system, the Lutz, FL party bus chauffeur will bring you to your destination at the end of the night so that you won't even have to worry about finding a designated driver.
Party Bus Lutz FL
It's definitely a no-brainer that booking one of these vehicles can make your upcoming trip an absolutely incredible one that you will love. Rent a party bus in Lutz Florida today to make your trip an adventure! You will love every second of cruising around town in this party on wheels.
Contact us today for more information on Party Bus Rentals Lutz FL. We can find you the best prices, rates, and packages.