Charter Bus Port Charlotte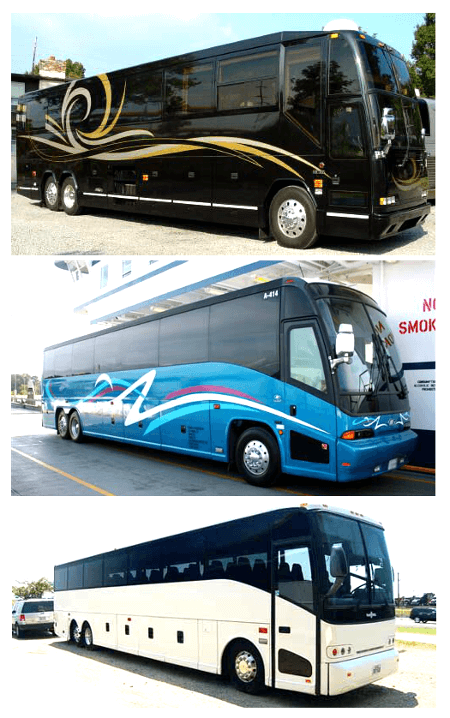 There are several requirements for charter bus rental Port Charlotte services in this region. There are travelers who come to this region for holiday or for work purposes. For conducting local sightseeing tours, tour operators are usually on the lookout for charter bus vehicles. There could be different seating requirements and one can take a look at the 20 passenger mini bus models we offer. There are also 30-50 passenger charter bus models which one can look at as well. Call 813-864-5330!

To getting office people to and from different destinations the charter bus service comes of use. You could take a look at the different coaches that we offer through our bus charter website and choose vehicles as per the varying shuttle requirements. Long term rentals are also possible on our site.

Port Charlotte Charter Bus Prices
The charter bus requirements are easily fulfilled on our portal. When you wish to take up our charter bus rental service, all you need to do is choose the right coach or model. You will then be able to choose between the 40 passenger charter bus models that are available.
The booking is easily done on the portal by making the payment on time. When the payment is done, the shuttle or private coach is chauffeured and driven to the given address or pickup destination. Get more information call 813-864-5330.
You can also reserve one of our spectacular party bus rentals that service the Port Charlotte area!
813-864-5330
Charter Buses Port Charlotte Attractions
There are several charter bus rental vehicles we provide which can be ideal for sightseeing trips. If you are out with friends or family members and wish to tour the area, you can take a look at the following places:
Ollie's Pond Park; this is a scenic park to visit while you are in Port Charlotte.
Cultural Center; this center located in Charlotte county will allow you to try food and different entertainment activities.
Smoke and Roses Day Tour; this is a day tour that is popular among the tourists here.
Port Charlotte Beach Park; it is a quaint park or beach area that is worth visiting.
North Charlotte Regional Park; it is a great park area to visit and play games like baseball.
Charter Bus Rental Port Charlotte Airport Transport
Among the 50 passenger charter bus vehicles which are available on our charter bus portal, we have a dedicated number of shuttle services that offer pickup and drop to the Sarasota-Bradenton International airport area. This helps to transport groups of people on time for their flights.
Port Charlotte limousines are also on option for airport transportation.
Port Charlotte Charter Buses Near Me
There might be requirements for long road trips to the nearby towns or cities like Punta Gorda, Sarasota Springs, Cypress Lake, Laurel, North Port, Venice, Fort Myers, Iona, Cape Coral, Villas. For these trips to be made in comfort, it is imperative that one takes a look at the different coach buses we provide. One can opt for the limousine coaches as well, which will allow one to have a party on the go and have entertainment on the move for long road trips.
Check Bus Prices
---