St. Petersburg Charter Bus Company
A1 Tampa Limo is the place to go when you need to go in the St. Petersburg area. We offer a variety of options. Take your small group limo to your destination, and arrive in luxurious comfort. If your group is larger, book a minibus with us that can accommodate 15 to 30 people. We can cover all of your ground transportation needs, even a Motor coach that seats 40 to 60 passengers. If your group is somewhere in between, book a shuttle that accommodates 40 to 60 people. No matter the size of your group, book through A1 Tampa Limo. You can reserve a vehicle in a variety of ways. Go to our website and get an instant quote. If you have questions, you can use our online chat. Or you can call us and speak to one of our well trained reservation agents. We are known for our customer service. Book your transportation with us and have fun on the way to your destination as well as the way back. Don't schlep your chairs and coolers through the parking lot to the beach, get dropped off at the sand instead. Travel the most convenient way, have someone else do it, and book with A1 Tampa Limo.
Charter Bus Rentals
35 Passenger Charter Bus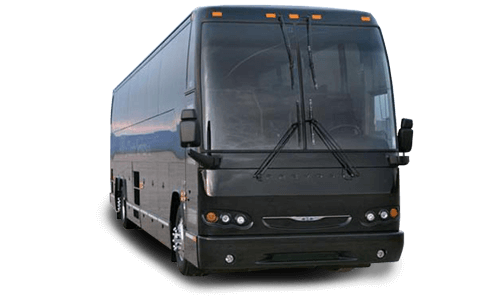 40 Passenger Charter Bus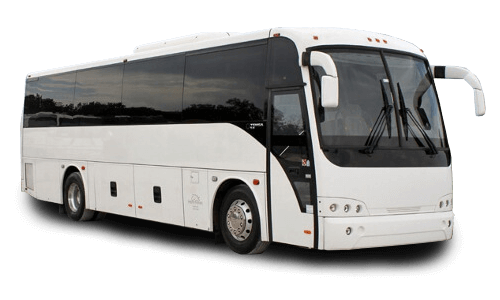 50 Passenger Charter Bus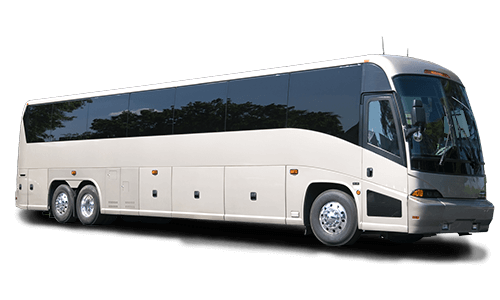 56 Passenger Charter Bus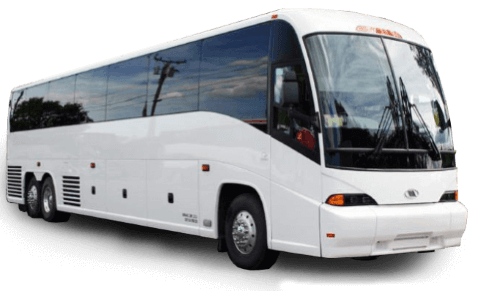 St. Petersburg Charter Bus Services
Group Transportation Services
Sports Team Transportation
55+ Senior Group Transportation
Contact Us - Free Instant Quote!
St. Petersburg, FL History
St. Petersburg, FL Is located next to Tampa Bay. St. Petersburg was named for the city in Russia by Peter Demens, allegedly after he won a coin toss in John Williams. Williams bought the land in 1875, and Demens helped get the terminus of the Orange Belt Railway to St. Pete in 1888. The town was incorporated in 1892. The city was known for commercial fishing. St. Pete was later incorporated as a city in 1903. After a series of dredging of the channel, the city was opened up to shipping. In 191, the mayor had the St. Louis Brown move their spring training to the city. Gandy's Bridge opening made access by car easier and fueled the city's growth. Another attraction, the Million Dollar Pier, built in 1926, helped fuel tourism. By the 1940's, both the Coast Guard and Army had training bases there, which in turn brought 100,000 service members, occupying all the hotels. After the war, many members returned as tourists or residents. The first Skyway Bridge was built in 1954, giving direct access to Manatee County. With the bridge in place, Highway 19 was able to open and fuel more traffic and growth. In the 1960's another bridge connected St. Pete to Tampa. Construction on a dome stadium started in 1986, opened in 1990. It later became Tropicana Field in 1996, after the Tampa Bay Rays franchise came in. 1995. The City continued to grow, with a slight dip in population in the early 2000's. The population now stands at 265,000.
St. Petersburg Popular Attractions
Salvatore Dali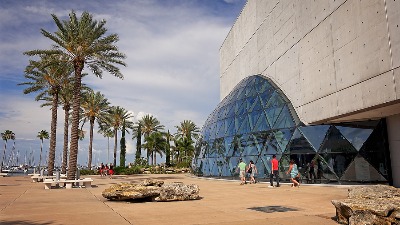 The Salvatore Dali located houses a collection of works by the artist. Dali was known for his surrealist painting. The museum opened in 1982, and has an impressive 2,400 works by the artist, including almost 300 oil paintings. Architectural Digest named it "one of the 10 most interesting museums in the world." The Michelin Guide rated it an impressive three stars. The museum has a café called the Café Gala. The café offers breakfast and lunch, with a wide variety of pastries. They have sandwiches, salads, and Spanish Tapas. They use Kahwa coffee, which is a local roaster in the Tampa Bay area. Their coffee and their baristas are excellent. So enjoy a nice cappuccino or macchiato between galleries. They will host your event, corporate retreat, cocktail hour, black tie event, business presentation, private party, or wedding. With its amazing architecture, it is the perfect place for wedding photos. It was rated the Best Tampa Bay Wedding Service by Here Comes the Guide. Arrive at your event at The Dali in style with A1 Tampa Limo. Book a limo or corporate bus.
Address: 1 Dali BLvd, St. Petersburg, FL 33701, 727-823-3767
St. Petersburg Country Club
The St. Petersburg Country Club was opened in 1924, originally named the Lakewood Country Club. The club was renamed The St. Petersburg Country Club in 2000 The 18 hole course was designed by Herbert Strong, who was a professional golfer, and after retiring from the sport decided to become an architect. This course has been played by such legends as Sam Snead and Ben Hogan. The club boasts 11 tennis courts, with 6 lights for night play. The pool is junior Olympic sized. The club also offers a fitness room. The Tiki Hut Bar and Grill is open nights and weekends with a happy hour and appetizer menu. The club hosts corporate events, private parties, and weddings. They have a ballroom with a 12' x 18' dance floor, and can take up to 250 guests. Event dinner entrees include prime rib, grilled sirloin, NY Strip steak, and filet mignon. Buffets are also available. The best way to arrive at your event at the club is luxury transportation booked by A1 Tampa Limo.
Address: 2000 Country Club Way, St. Petersburg, FL 33712, 727-867-2111
The Sunken Gardens
The Sunken Gardens is an historic 100 year old garden right in the city. They have more than 50,000 exotics plants and flowers from all over the world. They are open Monday through Saturday 10;00-4:30, and Sunday 12:00-4;30. Adult tickets are $12. Seniors $10 (62 and up), and children (2-17) $6. The Garden will host your wedding, corporate event or private party. The Garden specializes in weddings. You can get married on the North Lawn, Wedding Lawn, or under the oak trees at Oak Pavilion. The wedding Lawn is the largest venue, able to seat 200 people. The North Lawn can handle 175 people. The smallest is the Oak Pavilion which can host 80 guests. There is an indoor Garden Room for a reception. Drones are not allowed on the property, to preserve the trees, plants and flowers. Professional Photography requires a permit with a fee, additional to the wedding. Wedding photography is only allowed for weddings contracted with The Sunken Garden.
Address: 1825 4th St. N, St Petersburg, FL 33704, 727-551-3102
Tampa Bay Aviation
If you want to literally see the sights, book a helicopter ride through Tampa Bay Aviation. Take your group on the downtown tour, the Historic St. Pete option, Treasure Tour, Skyway Experience, Tampa Bay Tour, or create your own ($498-$747). Flights take from Albert Whitted airport, which is in downtown St. Pete. Prices start at $98 per person. Or take three people up for the longest tour, the Tampa Bay tour for $597. They have a flight school, so you can even get a flight lesson. There is a weight limit of 300 pounds per seat. You can also charter fixed wing aircraft. Their fleet includes a CitationJet. Flights are weather permitting, but St. Pete isn't called The Sunshine City for nothing. This is the best way to see St. Petersburg.
Address: 540 1st St SE, St. Petersburg, FL 33701, 727-461-5229
400 Beach Seafood and Taphouse
If you're feeling hungry, 400 Beach Seafood and Tap House at is an excellent place to go. It's a full service restaurant with both catering and banquets available. They offer both casual and formal events, with your choice of three banquet rooms, outdoors.They can handle any event from 16-125 people for sit down service. All the banquet rooms offer views of the ocean. Catering is anywhere from $23-$62 per person. Their restaurant menu is mostly seafood with an option for Ribeye or Filet Mignon. They have an oyster bar with a variety of oyster options. Sunday is an all you can eat buffet. They have over 20 beers on tap, with two specials that rotate. Have your event at 400 Beach, and arrive there with transportation booked through A1 Tampa Limo.
Address: 400 Beach Drive NE, St. Petersburg, Fl 33701, 727-896-2400
St. Petersburg Charter Bus Rentals
40 Passenger Charter Bus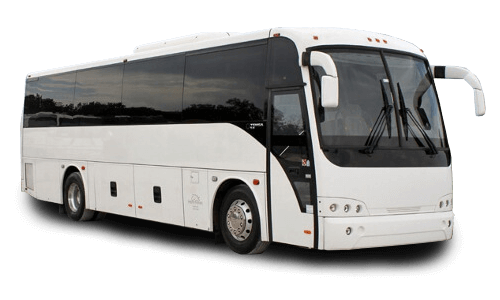 56 Passenger Charter Bus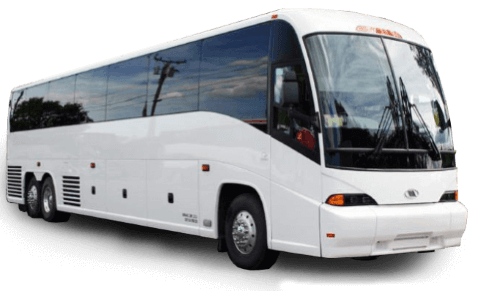 No matter where you go in St. Petersburg, The Salvatore Dali Museum, The St. Petersburg Country Club, The Sunken Gardens, The 400 Beach Seafood and Tap House, or on a flight with Tampa Bay Aviation, the best way to get there is through a charter bus booked with A1 Tampa Limo. Arrive at the Sunken Gardens in a stretch limo. Take your group in a minibus to the country club for a day of golf, tennis, or just relaxing by the pool. We cannot only get the bridal party there, we can also get your guests there with motor coaches. Have your rehearsal dinner at The 400 or country club and let us handle the transportation while you enjoy your special day. Reservations are easy. Just go on our website for a free instant quote. If you have any questions about the type of vehicle you may need, use our online chat. If you need more information you can speak with one of your well trained and experienced customer service representatives. Booking is always easy with A1 Tampa Limo.
---
Charter Bus Rental FAQ
How much does it cost to rent a charter bus?
Typically a charter bus rental can average $160 per hour to $200 per hour depending on many factors such as number of passengers and trip length.
How many people can you fit in a charter bus?
Charter Buses come in many different sizes from 50 passenger to 65 passengers.
How to rent a charter bus?
Renting a charter bus is a simple process that begins with a phone call. Contact us today for a free estimate on your trip.
Where can you take a charter Bus?
A Charter Bus is the perfect method of transportation for larger groups. Most Charter Buses can travel to stadiums, national parks, amusement parks, and much more!
35 Passenger Charter Bus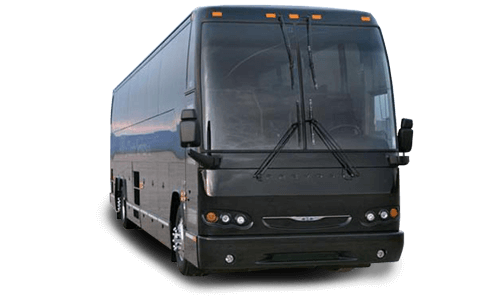 40 Passenger Charter Bus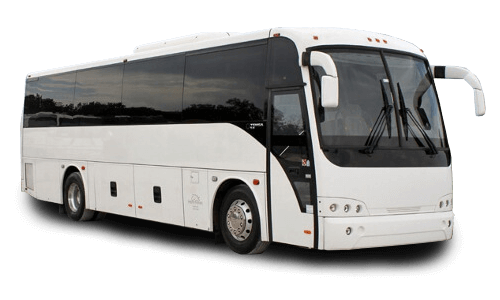 50 Passenger Charter Bus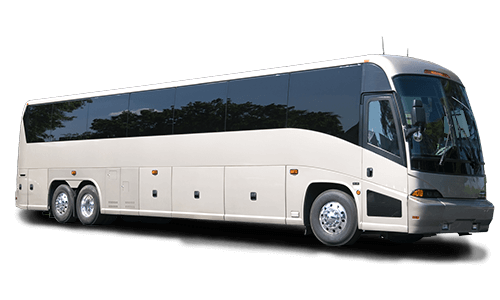 56 Passenger Charter Bus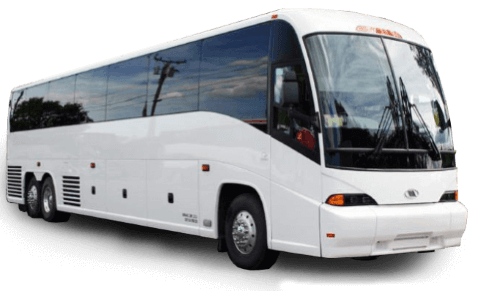 St. Petersburg Charter Bus Pricing
| Vehicle Type | Vehicle Passengers | Hourly Rates* |
| --- | --- | --- |
| 50 Passenger Charter Bus | Up To 50 | $130-$180 |
| 55 Passenger Charter Bus | Up To 55 | $180-$230 |
| 56 Passenger Charter Bus | Up To 56 | $230-$280 |
| 60 Passenger Charter Bus | Up To 60 | $280-$400 |