A1 Tampa is the best choice for bus rentals. Wev've been in business and have the best customer service, rates, and fleet of buses to match. Tampa Charters offers a wide variety of transportation options for groups from 10 people up through party buses that can accommodate 50 or more! Their vehicles are safe, reliable and modern models with comfortable seats and plenty of leg room so you will be able to sit back, relax and enjoy your trip without worrying about getting carsick or running out of gas on an open road somewhere between destinations!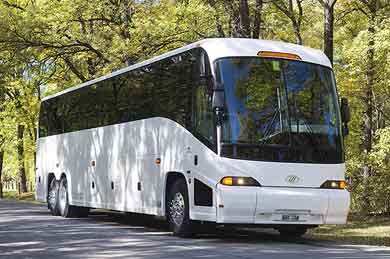 When traveling with a group of friends, family, or colleagues, you may need to find a charter bus rental. Charter buses are the perfect solution for preventing groups of people from getting separated when visiting a new area.
Call Now: 1-813-864-5330
There are numerous bus rental options available including mini buses and shuttle buses for smaller groups or 30-50 passenger charter buses for larger groups.
Each charter bus rental comes equipped the best amenities to keep your company satisfied. We have some buses with TV/DVD players, LED lighting, leather seats and more. Below is a list of cities A1TampaLimo offers service to.
Charter Bus Near Me – Service Areas:
Tampa Charters is a bus rental company in Tampa Florida. We offer several different types of buses for rent and we have a variety of sizes and models. Our charter buses are available for hourly, daily and weekly rentals. Our fleet includes the following: Charter buses with luxury seats (seats 15-25 passengers). Charter buses with regular seats (seats 30-40 passengers). Mini bus rentals (seats anywhere from 22-50 or more people). School bus rentals, which can be used for field trips or events where children will be riding.
You may also be interested in hiring a charter bus rental on the East coast of Florida. Visit https://www.ftlauderdalelimo.com/fl/.
Bus Rental Prices in Tampa
| | |
| --- | --- |
| Vehicle | Rental Pricing |
| 6 Passenger Limo | $110-$145 hourly* |
| 8 Passenger Limo | $120-$155 hourly* |
| 12 Passenger Limo | $125-$165 hourly* |
| 18 Passenger Minibus | $140-$170 hourly* |
| 20 Passenger Party Bus | $150-$200 hourly* |
| 25 Passenger Party Bus | $160-$220 hourly* |
| 30 Passenger Party Bus | $180-$260 hourly* |
| 30 Passenger School Bus | $145-$240 hourly* |
| 50 Passenger Coach Bus | $150-$240 hourly* |
| 56 Passenger Charter Bus | $150-$260 hourly* |
*Prices vary greatly depending on the city and state of your service. Due to COVID-19, rental prices shown in past estimates may not reflect actual pricing which may be significantly higher depending on availability.
Why Choose Us?
In addition to being home to some of Florida's most beautiful beaches, it also has many interesting attractions that can be seen by taking a bus rental from Tampa Charters. These include: Busch Gardens – This theme park has over 2,000 acres and features thrill rides like Sheikra and Montu roller coasters as well as animal exhibits including tigers, koalas and penguins. Busch Gardens Waterpark – This water park features a wide range of water slides including an open tube slide called Avalanche Falls that descends into the depths below before rising back up again at dizzying speeds! There are also several children's areas where kids can play without getting too wet while adults relax nearby in their own private cabanas or on floating mats that let you float around on your back in warm waterfalls surrounded by tropical plants
Luxury Charter Buses
If you're looking to rent a bus in Tampa, Florida, then look no further than LLuxury Charter Buses. They have a selection of different vehicles that can accommodate anything from large parties to intimate groups. Whether it's something as simple as transporting your wedding guests or taking a crew of coworkers out for an evening on the town, they have what you need.
Charter Bus Pricing Explained
How much does a charter bus rental cost? The cost of your charter bus rental will depend on several factors. The first thing to consider is the size of the bus you need. If you're not sure how many people are going to be on the trip, then it can be better to get an extra-large vehicle so there's room for everyone. What else affects charter bus price? The length of time you rent a Charter Bus Company is also important when determining costs. There may be additional fees charged if you require pick-up or drop-off at airports or train stations, so make sure that information is included in your quote before accepting any quote from a company.'
Minibus Rentals
You might think that the most important thing to consider when renting a bus is its size. While not completely wrong, there are other factors that you should take into consideration as well. For example, if you're looking for something smaller than a coach but larger than an SUV and more economical than both, then minibuses might be the right choice for you. Minibuses have seating capacity between seven and fifteen passengers, which makes them ideal for groups that don't need to fit everyone into one car or taxi but don't want to pay excessive fees on bus rentals either. Minibuses are also much more fuel efficient than larger coaches or motorcoaches because they use smaller engines; this means that they're cheaper on gas and safer on trips with less traffic congestion (and therefore less stress).
Mini Bus Pricing Explained
Mini bus pricing is a little more complicated than other vehicle types. The main reason for this is that the price of a mini bus rental in Tampa depends on how many passengers you want to fit into it. If you're looking for a vehicle that can comfortably seat six people and then some, expect to pay significantly more than if you were ordering one that can fit only five passengers. The second factor affecting the cost of your mini bus rental from Tampa Charters is its size!
Motorcoach
A motorcoach, or motor coach, is a type of bus that has a driver's seat at the front and multiple rows of seats behind it. These buses usually have fewer than 50 seats and often include an aisle for easier movement between rows. They are typically used for group travel and often have amenities like restrooms and video monitors for entertainment. Motorcoaches are generally more expensive than standard buses because they offer more comfort during the ride. This makes them ideal for transporting large groups of people, who may want to take advantage of the additional space provided by these vehicles. If you're planning on traveling with a large group—or just wanting to be in charge of your own transportation while visiting Tampa—then hiring a motorcoach could be right for you! Here are some questions you'll want to ask when looking into hiring one: What type do I need? There are many types available; some focus on comfort while others prioritize safety. For example, there are those designed specifically for long-distance trips as well as those that offer more amenities such as food service (with waiters) or sleeper beds. It's important that whatever type suits your needs best fits within your budget so don't forget about costs until after making sure everything else fits what you need!(Note: if there's something specific about each model listed on our website then click here to see them.)
Motorcoach Pricing
To get a bus rental from Tampa Charters, you're going to have to pay for it. But don't worry: The price is not as bad as you might think! The cost of a bus rental will depend on the number of seats, the type of bus and the length of time you need it. For example, if you are looking for something that can hold 8 people comfortably and last for four hours (this is called an 8-hour charter), then this will cost about $2,500 plus tax. Keep in mind that renting a motorcoach will be more expensive than renting a tour bus because they are bigger vehicles with more amenities inside them than standard tour buses.
Charter Bus Rental Services
If you're looking to travel in style and comfort, our charter bus rental services can help. We provide charter buses for weddings, school trips, corporate events, business meetings, sporting events and more. We offer a variety of transportation options for your group; whether it's a single limo bus or an entire fleet of luxury vehicles we've got the right vehicle for your needs. We also service Tampa Bay cities including St Petersburg and Clearwater. Our goal is to make planning your next trip as easy as possible by providing you with some great options!
Airport Transportation
Tampa International Airport (TPA) is the main airport for Tampa, Florida. It serves as an international gateway to visitors and residents of this city. To get to the airport, you can take a bus rental from Tampa Charters. Tampa International Airport has a variety of food options at its terminal that include restaurants and specialty food carts. You can also find shops inside the airport where you can buy souvenirs or other necessities during your trip to Florida. If you need help finding something at TPA, ask one of their friendly personnel who work at the airport's customer service desks located around its terminals so they can show you exactly where it's located in relation to what else is within walking distance near each one too!
Shuttle To The Venue With Wedding Transportation
A wedding is a special day in your life. You want to get to your venue safely without having to worry about driving or parking, and you also want to arrive in style. Your guests will be impressed by the luxury of your bus rental from Tampa Charters. You'll be able to enjoy the day and relax knowing that our professional drivers have everything under control so you can focus on enjoying yourself with family and friends instead of driving around town looking for parking spaces!
Coach Bus Transport For Sport Teams
Sports team transportation is an important part of the sports industry. It allows players to get from their home games to the away games and back again. The best way to do this is by chartering a bus for your team or renting a bus for your team. A great company for providing this service is Tampa Charters, who specializes in providing buses, minivans and other types of transport vehicles for sporting events. They also offer shuttle services, so that you can go from one place to another without having to worry about driving yourself around town while intoxicated (or whatever).
School Bus Rentals For Perfect School Trips
School bus rentals are the perfect way to transport your students to and from school. They're safe, reliable and they're available for all types of events. School buses can be rented in Tampa, FL as well as Orlando, Melbourne or Daytona Beach. With so many options for bus rentals, it's easy to see why schools choose this mode of transportation for their students every year. Transporting children can often be challenging due to the fact that each child has their own unique needs which must be met before they will feel comfortable enough to relax on long car rides or plane trips. School buses provide an excellent solution because they act as both a classroom during school hours and a transportation vehicle when needed outside those hours — all while providing a familiar environment where each student feels safe and secure throughout their travels!
Government Charter Bus Rentals
Government charter buses are used for many purposes. Government officials, students, employees and patients have to travel from one place to another for official purposes. It is very important for them to reach their destination on time and safely. They cannot afford any delay in their schedule because it might cause serious trouble for them at the governmental level or personal level as well. That's why government charter bus rentals are always preferred by these people when they need a transportation service for their group of people in order not just to reach their destinations but also do so without any delays or hassles along the way
Book Corporate Travel Coach Buses
If you're looking for a great deal on corporate travel coach buses, then Tampa Charters is the company to book with. We have a variety of options for your company that will ensure that everyone has an enjoyable time and can get where they need to go with ease. Our team will help you find exactly what you need, whether it's one bus or many buses. We can also help take care of all the details so that your employees can focus on enjoying their trip instead of worrying about logistics. You want to give your employees an opportunity to relax after work and enjoy their vacation, but it can be hard to plan everything out in advance if you don't know how many people are going or how long they'll be gone. One way we help companies plan successful corporate events is by offering them customized packages based on their needs at an affordable price point – these packages include transportation as well as accommodations at hotels near each destination (if applicable). If you're looking for something less formal than staying at a hotel room then consider hiring us to provide transport services only – this way there's no need for anyone else besides yourself!
Prom and Formal Shuttle Service
You can expect that your ride will be on time. You should bring a cell phone, money and ID. Leave valuables at home and wear comfortable clothes that won't get wrinkled. Before the event: Check with Tampa Charters about prohibited items for travel and find out if there are any special instructions for boarding or exiting the bus. If you're giving a speech or presentation, practice it beforehand so you're ready to go once the bus arrives. After the event: If you were given an itinerary beforehand, make sure you follow it closely so that everyone knows where to meet up after the event is over. If this is not possible (because of traffic or other reasons), ask someone who works at Tampa Charters to help guide people back together again after they've left each other for various functions throughout their stay in Florida.
Affordable Bus Rentals
Greek events are a great way to celebrate the culture and heritage of our community, but they also require plenty of travel time to get guests to and from various locations. If you want an easy way for guests to get around town without having their own vehicles, then consider renting one of our motorcoaches! These buses can accommodate up to 30 people comfortably, and they offer features such as air conditioning and heating systems, TVs (for watching movies or music videos), comfortable seating arrangements including leather chairs in front rows and more basic ones in back rows — which is perfect for any type of event!
A charter bus rental is the best way to get a group of people from one place to another. It can be used for any special occasion like a wedding or school trip. The vehicle comes with seats that are designed to make your journey comfortable. You can sit back and enjoy the ride without having to worry about anything else since there is enough space for everyone in your party as well as luggage if needed. With this type of transportation, it's easier than ever before thanks to our online portal where you will find everything needed when it comes time selecting which type of vehicle based on their needs when making arrangements beforehand with us so that everything goes smoothly during those times when renting one out today!