A1 Tampa Limo is the only place you should call for your transportation needs in Tampa Florida. We have been serving the area for years, and we are proud to say we have become a local favorite. In case you haven't heard of us, let me tell you a bit about our company! A1 Tampa Limo is not just any old limousine company; we pride ourselves on providing exceptional customer service and entertainment options that make every trip special. We are one of the few companies left in this industry who still believe in taking care of customers instead of just getting their money as fast as possible. That being said, we also offer some great deals on all our rentals so everyone can enjoy them no matter what their budget may be. Our fleet includes everything from sedans (sedans) to stretch limousines (stretch limos) and even party buses (party buses). No matter what kind of transportation service you need during your stay here in beautiful Florida, don't hesitate to give us a call because there is no better choice than renting from A1!
About A1 Tampa Limo Service
A1 Tampa Limo has over 20 years of transportation related experience. We have built this company on reliability, loyalty, work ethic, fair rates, and clean vehicles. We are all about customer satisfaction. When you mix dependability, with luxurious limos, and courteous chauffeurs, you have a recipe for a successful limousine service.

A1 Tampa Limo provides limo service for all of South and Central Florida. We offer a Tampa limousine service and Tampa limousine rentals for all events. We are equipped with a new and improved fleet of fantastic luxury limousines and party buses throughout Tampa Bay, Saint Petersburg, Clearwater, and Orlando. Our amazing fleet of luxury vehicles will meet all your transportation needs.

Tampa Limos and Party Buses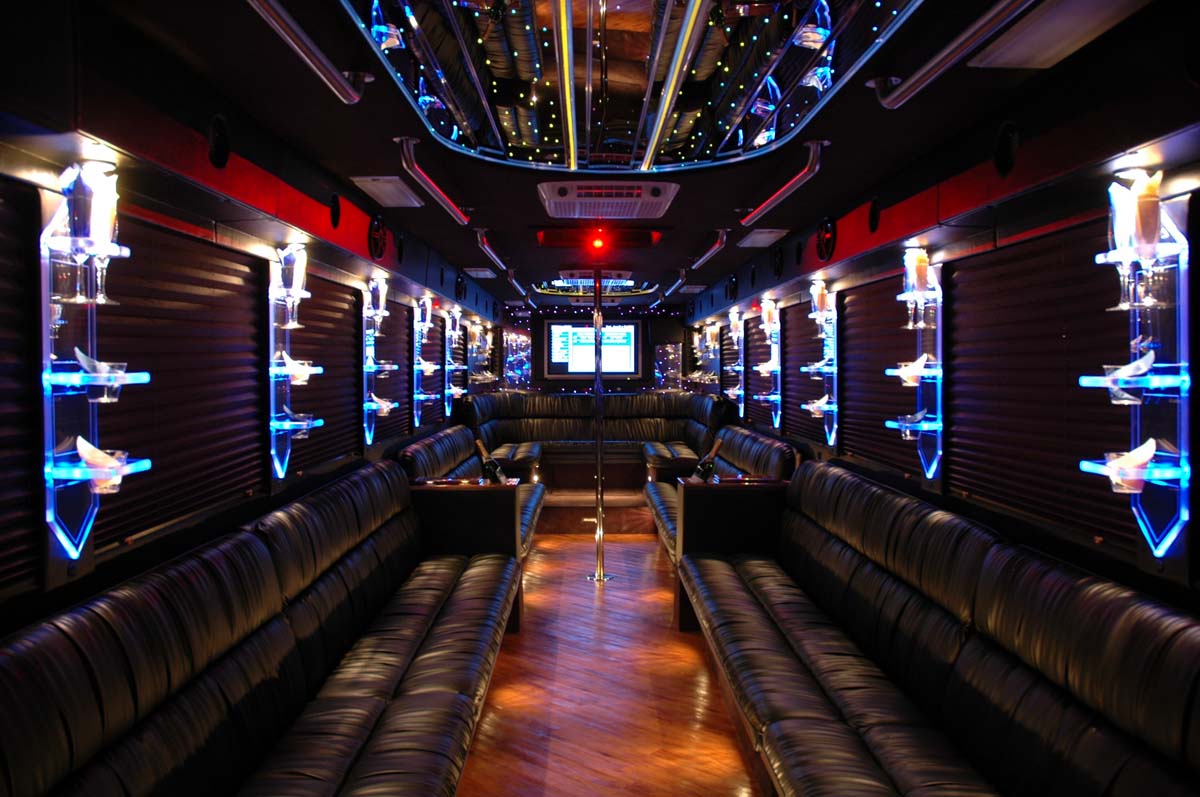 Get FREE limo quotes by calling 1-813-864-5330 or by clicking "contact us" page. Preview our fleet of Hummer Limousines, Party Buses, Charter Coaches, Limo Buses, Excursion Limousines, Escalade Limousines, Stretch Limousines, and more.

Don't be fooled by our name, we are a full service transportation company with local service in Tampa, South Beach, Ft. Lauderdale, Palm Beach, Orlando, Tampa, and Daytona Beach. We offer clean vehicles, dependable chauffeurs, and on time service. We are an "A" rated company with the Better Business Bureau.
Contact us now for limousine service quotes and limo rentals for weddings, proms, airport transfers, bachelor/bachelorette parties, and more. Indulge yourself with one of our stretch limos, Hummer limos, or party buses!
Additional resources: ftlauderdalelimo.com.
About Tampa Limos
Tampa Limos is a professional chauffeur service that provides transportation to and from the Tampa Bay area. We offer both ground transportation and catering services, so you can be assured that your guests will enjoy a memorable trip on the day of your event.Whether you're planning a bachelorette party or wedding, we'll take care of everything for you! Just give us some basic information about where you want to go or what kind of vehicle you want to rent, and we'll handle all the details behind-the-scenes. There's no need to stress over planning an unforgettable event—we've got it covered!
Here's why you should choose Tampa Limos Florida for trip
Here's why you should choose Tampa Limos Florida for your next trip: We have a large fleet of buses and limos, so we can accommodate any type of group. Whether you are traveling with friends or coworkers, we have the perfect vehicle to fit your needs. Our staff is dedicated to service above all else. If there's anything we can do to help you on your journey, please don't hesitate to ask! Our goal is simple: provide an unforgettable experience whether you're coming in from out of town or just need transportation around town (Tampa).
Many buses & limousines to rent
You can choose the bus or limousine that best fits the number of people in your party. The smaller buses can seat up to 20 people while the larger ones will accommodate up to 50! If you need a vehicle with more space, we also offer vans and SUVs for private events.
No stress planning
A1 Tampa Limo will give you a stress-free experience. You won't need to plan ahead, because we do that for you. No waiting in line at the airport or rental car counter, no parking hassles, no getting lost on the way to your hotel or venue, and no traffic jams!
We can take you anywhere in Florida
As the A1 Tampa Limo service, we can take you anywhere in Florida. If you want to go somewhere else, we can take you anywhere in the world. If that's not enough for you and your friends, we can take all of you literally anywhere in the universe (or at least as far as NASA will allow). Even if it's just one person who wants to go someplace far away from here, they should be able to find someone with a car who will help them out. If none of these options work for your particular needs—if perhaps you're looking for something more exotic—we can also provide transportation services on other planets!
Dedication to service
At A1 Tampa Limo, we are dedicated to our customers. We strive to provide the best service possible at all times. We also believe in being dedicated to our employees and their families. They are a part of us, and we want them to be happy while they work hard for us! Our community is important too. We understand that if we don't take care of it, who will? So we try our best by donating time, money and support whenever possible. We do our part when it comes to preserving the environment as well—especially when it comes down to recycling and reusing everything possible (like old cars). It's important that future generations have a clean world too! And speaking of future generations…we're also committed to making sure that Florida has enough water for everyone in 100 years from now when global warming takes effect (you know it will). If anything happens between now & then though…let's just say that A1 Tampa Limo is on top of things!
Can help almost any type of group
Groups of any size: Whether it's two people or a group of a hundred, A1 Tampa Limo will be able to help you get where you need to go. Groups of any age: Whether your group is made up of 20-somethings looking for something fun to do in Tampa or retirees looking for a relaxing time out, A1 Tampa Limo has the perfect limousine for your needs.
Let us serve you
Our goal is to provide you with a positive experience, and we will do everything within our power to make that happen. We want you to feel comfortable and secure when riding with us, so if there's anything that can be done for you before your trip or during it, just ask!
Punctuality
In business, punctuality is key. Being late to a meeting or appointment is not only rude but also unprofessional. The same goes for being late for your customers, friends, family and coworkers. If you are going to be late to an event or meeting—for any reason—make sure you let the person know beforehand so they can plan accordingly. When it comes to driving around in Tampa and St Petersburg in style with A1 Tampa Limo Services, we understand that timeliness is important because people are busy and often have schedules that need to be kept on track. T
Availability
Another reason why A1 Tampa Limo is the best in the business is that we are available 24 hours a day, 7 days a week. Even on holidays! If you need transportation to or from Tampa International Airport, we can help. If you need a ride to or from your hotel or resort, we are always ready to assist you. No matter what time of day it is, no matter what day of the week it is and no matter where in Florida your destination might be located: if there's an event happening at Amalie Arena (home of the Florida Lightning) then we can get you there safely with ease and comfort.
Professionalism
A1 Tampa Limo is a professional business, so we act like it. If you need to be somewhere at a specific time, or if you're in need of a ride from the airport or train station, we will be there for you—on time and prepared. We also spend time looking for ways to improve our service so that it's even better than what's expected. Being open-minded and innovative helps us find solutions to any problems that may arise during your trip with us.
Flexibility
We can help almost any type of group, so no matter how big or small your group is, we have the right vehicle for you. If you're planning a trip with employees, co-workers or clients, chances are we can provide transportation that meets their needs and fits into your budget. Plus, our customer service agents will work with you to determine the best pickup and drop-off times based on your itinerary.
Groups We Service
We can help almost any type of group. Whether it's a small party of eight or a large corporation of 500, we have the resources to fit your needs. We can take you anywhere in Florida and beyond, including airports and cruise ships. And with our diverse fleet of vehicles, there's something for everyone: stretch limos (for those who prefer more room), Lincoln Town Cars (for those who prefer luxury), SUVs (for those looking for safety), even buses (for groups of 75+)! You're at least as important as the service you receive from us – if not more so. We are available 24 hours a day, 7 days a week.
Destinations We Go To In Tampa Florida
Tampa Bay
St. Petersburg
Clearwater
St. Pete Beach
Dunedin, Florida (great for golfing with a guide)
This means you can take a renting a limo to the following destinations:
Safety Harbor, Florida
Oldsmar or Largo (we go to both)
Palm Harbor and Tarpon Springs are great places to visit as well
Limo & Bus Rental Prices in Tampa
| | |
| --- | --- |
| Vehicle | Rental Pricing |
| 6 Passenger Limo | $110-$145 hourly* |
| 8 Passenger Limo | $120-$155 hourly* |
| 12 Passenger Limo | $125-$165 hourly* |
| 18 Passenger Minibus | $140-$170 hourly* |
| 20 Passenger Party Bus | $150-$200 hourly* |
| 25 Passenger Party Bus | $160-$220 hourly* |
| 30 Passenger Party Bus | $180-$260 hourly* |
| 30 Passenger School Bus | $145-$240 hourly* |
| 50 Passenger Coach Bus | $150-$240 hourly* |
| 56 Passenger Charter Bus | $150-$260 hourly* |
*Prices vary greatly depending on the city and state of your service. Due to COVID-19, rental prices shown in past estimates may not reflect actual pricing which may be significantly higher depending on availability.