Best Party Bus Rentals Englewood, Florida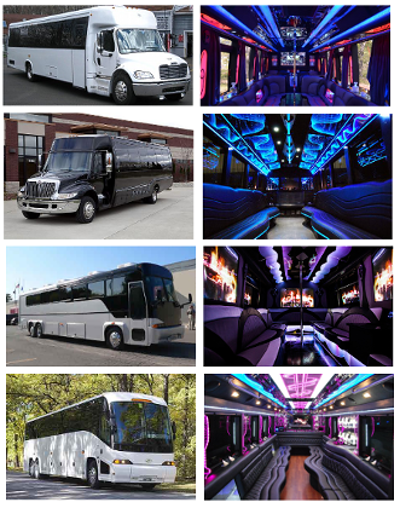 There are several options for our party bus Englewood service in this region. It is a unique way to celebrate with friends and family members and even among corporate circles. As a result, this is a trend that is catching on with many people. If you wish to celebrate your birthday with a difference, opt for our party bus Englewood service to make a statement. Book now, call 813-864-5330!

There are several reasons why you should opt for one of the party bus rental Englewood services that we provide. These buses are equipped with entertainment systems to play your favorite music and videos. Again, the night club and lounge like fitments that our limousine buses come with will make our night time entertainment complete. Most of our double decker buses among the 20 passenger party bus service we provide come with kitchenette facilities as well.

Englewood Party Bus Prices
The party bus rental Englewood service can be easily booked through our portal. The portal that we provide offers several bus models for hire. You can take a choice among coach, double decker and standard limousine buses and choose the facilities you wish to use. Once this is done, you can opt to finalize the booking by making payment online.
The party bus Englewood service we provide on our site ensures that you have as many buses at your disposal as you require. You might be looking at hiring 30 passenger party bus service or more. You can rest assured that you will find all this and more at our portal.
Get prices and availability for party bus rentals: 813-864-5330
813-864-5330
Party Buses Englewood Attractions
There are several attractions in and around Englewood. If you wish to take your group around in comfort and convenience around this place opt to take up our party bus rental Englewood service. You can then get around to the following places:
Stump Pass Beach; this is a state park with a quiet beach area as well as trails to explore.
Manasota Key Beach; it is a wonderful beach located on the Gulf of Mexico.
Catania Winery; you can drive out to this small winery and try the wines created there.
The Open Studio; it is a day spa which is quite popular and a wonderful place to relax.
Armadillo's Billiard and Brew; a favorite haunt of the locals in the evening.
Party Bus Rental Englewood Airport Transport
The Sarasota-Bradenton airport transfer of a group of people who are corporate clientele or on a company tour might be a daunting task. To make the transfer smooth and comfortable, opt for one of the 40 passenger party bus service that we provide. You will surely get everyone transported easily in groups.
Party Buses Englewood Neighborhood
The requirement to travel to different places in and around Englewood like Port Charlotte, South Venice, North Port, Punta Gorda, Bayshore Gardens, Sarasota, Fort Myers, Boca Grande, Laurel and Fruitville might arise due to different reasons. No matter what is the requirement, making a long journey smooth for a group of people is not easy. However, if you opt for our 50 passenger party bus service it will be a comfortable ride.
You can also book party bus rentals here:
Check Bus Prices
---