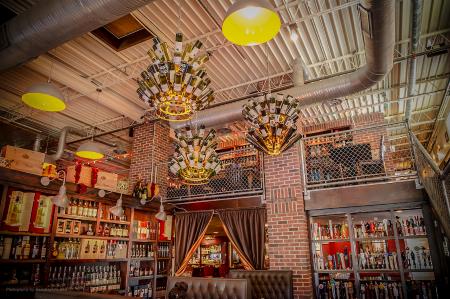 Whether you want good coffee, barbecue, pizza, steak, sushi or seafood, Tampa, Florida has it all. Here are the top 5 best restaurants in Tampa that will certainly blow the taste buds out of your mouth with their mouth-watering dishes:
Here are the Top 5 Restaurants in Tampa, FL
---
Al's Finger Licking Good Bar-B-Que
1609 Angel Oliva Senior St, Tampa, FL 33605
If you want the best barbecue in Tampa, head to Al's Finger Licking Good Bar-B-Que. This small barbecue joint has a laid back and extremely comfortable atmosphere just the way a good barbecue joint should be. Be prepared to leak your fingers when you taste their smoked meats as they are very delicious and tender. And don't worry about people looking and judging you for your lack of table manners because everyone else will be busy enjoying their meals. You can expect to get good value for your money for whatever your order here. For instance, if you order gusto, expect to be served a half slab of ribs together with several other side dishes like collard greens, cheese, cornbread and baked beans.
Eddie V's Prime Seafood
4400 W Boy Scout Blvd, Tampa, FL 33607
If you are a lover of seafood, there's no better restaurant in Tampa to enjoy your favorite dish than Eddie V's Prime Seafood. From lobster tails and shrimp cocktails to market oysters and jumbo lump crabs, this restaurant has it all. Be sure to taste their Godiva chocolate cake before you leave. And what about the atmosphere inside Eddie's V's Prime? It's very sophisticated, stylish and modern with very good live jazz music. Its good food, good music and great atmosphere make it a perfect place to have a romantic dinner with your significant other.
Soho Sushi
3218 W Kennedy Blvd, Tampa, FL 33609
Soho Sushi is another great restaurant in Tampa you shouldn't miss if you love sushi. It is very popular for having the best and freshest sushi rolls. You may want to try their volcano roll that is made with crab and cucumber, topped with spicy baked crab and salmon and wrapped with avocado. It's mouth-watering and looks amazing too, I can assure you. Also, expect to leak your fingers with every bite of their tasty peach sake from their peach menu. Being a very popular sushi spot in Tampa, Soho Sushi gets several customers (as you'd expect) especially during lunch and dinner hours, so only come during these times if you are okay with waiting for a couple of minutes before being served.
Eddie & Sam's NY Pizza
203 E Twiggs St, Tampa, FL 33602
If you want the best pizza in Tampa, rush to Eddie & Sam's NY Pizza. They offer very big slices, super tasty and fresh toppings and incredible sauce. What else can you ask for? And the best part is that they have a wide variety of pizzas on their menu, which are very affordable too. And you can order by slice, with each going for just about $4. If you enjoy New York-style pizza, Eddie & Sam's is the best place to be if you're not in NYC.
Jet City Espresso
318 S Edison Ave, Tampa, FL 33606
Hands down, this is by far the best traditional coffee house you'll ever find in Tampa. Their high quality and organic espresso coffee drinks have incredible flavor, so you may want to try them first before adding any honey or sugar. Note that coffee is not all you'll get at Jet City Espresso. They also serve tea, salads, baked goods and salads among several other foods. The atmosphere in this place is also very welcoming just like its owner, Jessica.
Head to any of these restaurants the next time you hire a limo service in Tampa, Florida and enjoy your favorite foods. You'll be glad you did.