Charter Bus Rental Kissimmee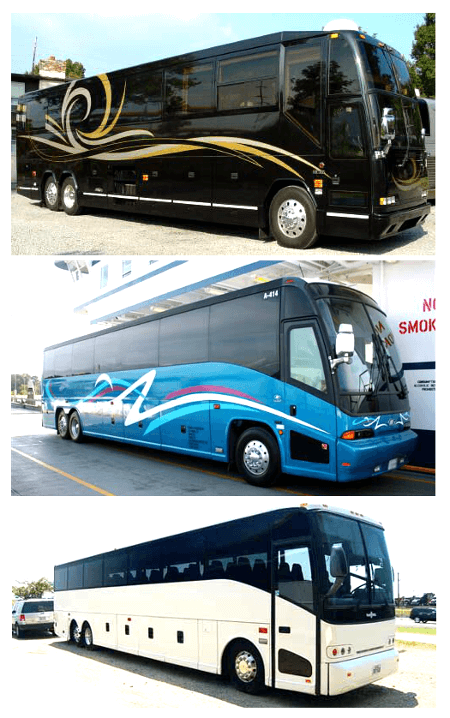 Charter Bus Rental Kissimmee is beneficial when you need to transport office people from one place to another. For groups of tourists it is necessary to get them from one place to another. You might wish to hire a 20 passenger mini bus or something larger like the 50 passenger charter bus that we offer. Call our customer service team at 813-864-5330.

Our service has 30 passenger shuttle buses and even more models to choose from. As a result you will not run out of options whether you are looking for a large group seating, small group seating arrangement or limo party bus rides as well. Our bus charter service is well known and well-reviewed by customers in this region.

Kissimmee Charter Bus Prices
For those who are looking to hire 40 passenger charter buses or more they are easily booked through our portal. Once you come to the portal you will find the several bus models for hire. Check the rates and other terms of hire before you proceed.
Once you have chosen the charter bus you need you will be able to book the vehicle online. Make the payment and have peace of mind as our shuttle services are on time and reliable. You can also call in and make a shuttle hire on the go. Book a charter bus now, call 813-864-5330.
Try our new Kissimmee party bus service if you want to kick your trip up a notch!
813-864-5330
Charter Buses Kissimmee Attractions
There are several local attractions that you might wish to check out in and around Kissimmee. This is a place that has many places worth checking out. Opt for one of the charter bus vehicles we offer to check out the following spots:
Kissimmee Lakefront Park; this is a park which offers a scenic view and quiet surroundings.
Fun Spot America; this is a place that will offer your family entertainment and fun.
Thompson Aire; it is a hot air balloon experience.
Boat Tours; there are several in the area to experience the waters in and around the region.
Warbird Adventures; this is a wildlife tour that you can undertake in the region.
Charter Bus Rental Kissimmee Airport Transport
The bus rental service that we offer has around 50 passenger charter buses or more which operate as airport shuttle rides. For timely transportation to and from the Orlando International airport, you will surely find our airport shuttle rides most convenient.
Traditional limousine rentals in Kissimmee are also an effective means of airport transportation.
Charter Buses Kissimmee Neighborhood
The charter bus rental service we offer has shuttle rides and buses on hire which can operate in and around Kissimmee as well. If you are traveling to and from Kissimmee to towns like Ocoee, Orlando, Saint Cloud, Haines City, Winter Park, Doctor Phillips, Azalea Park, Pine Hills, Winter Gardens, Lockhart, you might be able to make a long road journey a comfortable one. Our shuttle buses make group travel over long distance comfortable as well as convenient.
Check Bus Prices
---